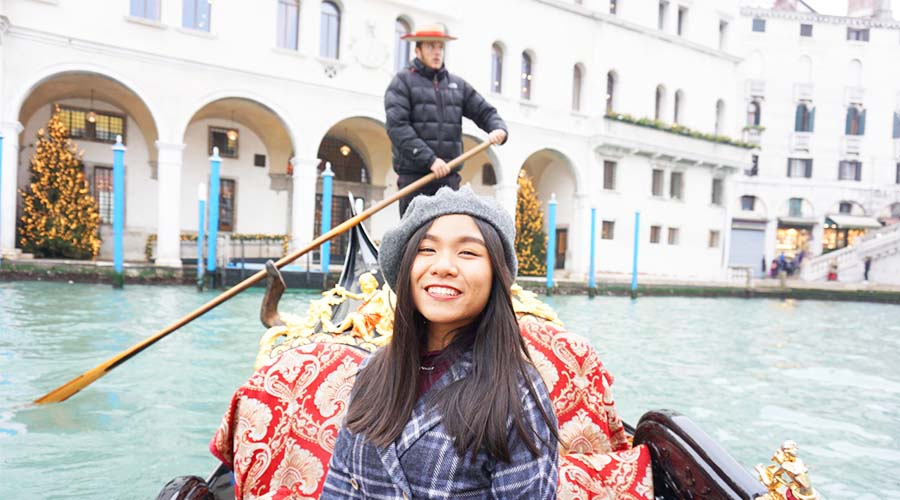 Chompoo is a fresh graduate from the Faculty of Journalism and Mass Communication at Thammasat. She has a major in Public Relations and is currently working as an Account Executive at Digital Business Consult Company.
"There are a lot of amazing and wonderful things waiting for you out there, beyond the horizon," Chompoo recalls her invaluable study exchange experience in Germany.
One day, back in her sophomore year, Patcharin Khumcharoen or Chompoo heard her friends talking about the student exchange program by chance. Having had experience studying abroad before, Chompoo knew it would be another great opportunity to enhance her knowledge and widen her visions in different areas.
In 2018,  Chompoo decided to apply for the program. Her desired destination was Germany. She explained that, "I decided to go to Germany because I'm interested in German language, German cultures. Moreover, Germany is ranked among the world's top destinations for international students." PH Ludwigsburg, the university at which she spent a year abroad, has been known for its racial and ethnic diversity; the multi-cultural community provided Chompoo with a space for mutual sharing of cultures between international students from various countries.
Chompoo emphasized that there was no need for any prior German skills at all. "For the interview, I was just confident, relaxed, and showed my passions to the committee." She later passed the selection process and flew to Germany without any German abilities. Chompoo then started learning German there and by the end of the second semester, she could already complete an A2 level.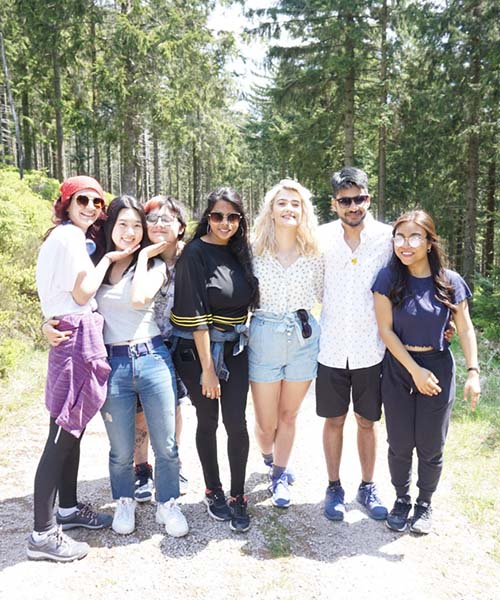 Aside from filling out the application form, there were many things an exchange student needed to do. First, she suggested, it should be certain that all the qualifications are met and a certain TU-GET score is in possession. Subsequent to being selected for the program, there will be a number of documents specified by the program needed to be prepared for obtaining a visa, university enrollment, health check-up, bank account, plane ticket, etc. The whole process may be exhausting and time consuming, but the exciting moment at the departure would be well worth it.Once she arrived at Ludwigsburg university, the international office provided a place in a dormitory for Chompoo to stay in. The availability of the public facilities, train station, bus stops, and supermarket in the campus and dorm area brought great convenience into her daily life.
Regarding the financial aspect, international students at Ludwigsburg university are exempted from tuition fees; however, they are requested to pay about 102 Euros (approximately 3,800 baht) for social charges. The students are not given a budget, but the program allows them to ask for a work permit from the university to work up to 40 hours per week to earn their own daily allowance.
Chompoo was fascinated by the people in Germany. In comparison with Thais, she found them very disciplined, punctual, and straightforward. "Ludwigsburg is a city in the Baden-württemberg. The foods there are called Swabian foods. The most famous ones are Pretzels and Maultaschen (Swabian ravioli), filled with minced meat, onions, spinach. Most of German foods are salty, while Thai foods are spicy." Chompoo recalled that German people love beer so much that they can drink beer instead of water.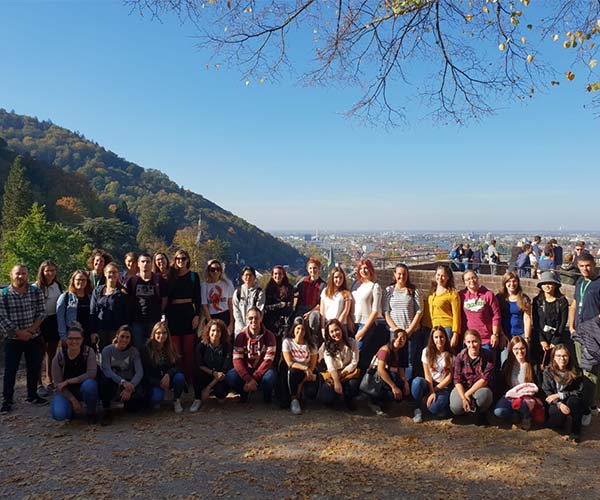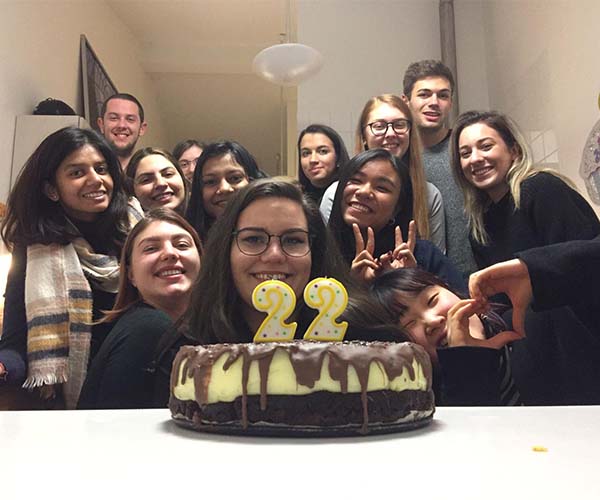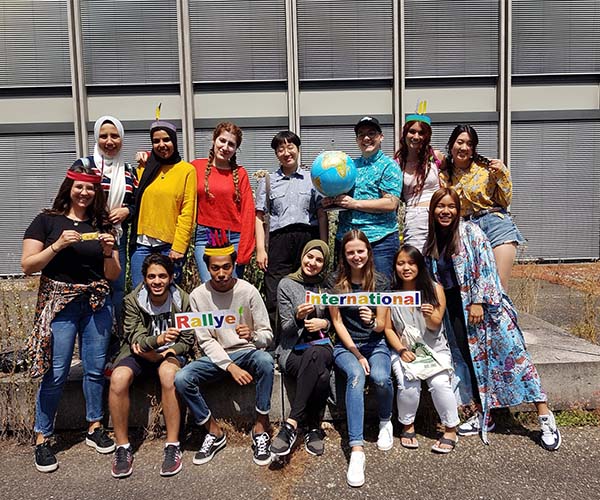 While she was there, Chompoo had a surprise encounter with a Hungarian friend she met back when she was studying abroad in a high school in Hungary. He was doing an internship in Ludwigsburg at that time and ready to assist her if Chompoo had any problems upon arriving in the city. Fortunately, the similarities between Germany and Hungary, along with her open-minded personality, facilitated cultural adjustment within herself, and everything went without difficulty.
Over the course of the year, Chompoo participated in a variety of activities — ranging from International Lunch, Semester Party, Sommerfestival, School Pub Crawl, Hiking Day, Lernstfestival, and Wasen (Octoberfest), to name a few. The most memorable one, however, was the Teacher retirement ceremony. "I performed modern dance and Bollywood dance with my classmates. We had practiced for the show for three months. It was so funny that I always wanted to quit the show, but I forced myself to do it til the end. Then I was very proud of myself because I am not good at dancing, and I was always shy when I had to perform something seriously in front of huge audiences." Despite all the ruckus, Chompoo admitted that she would do it all over again should she be given another chance.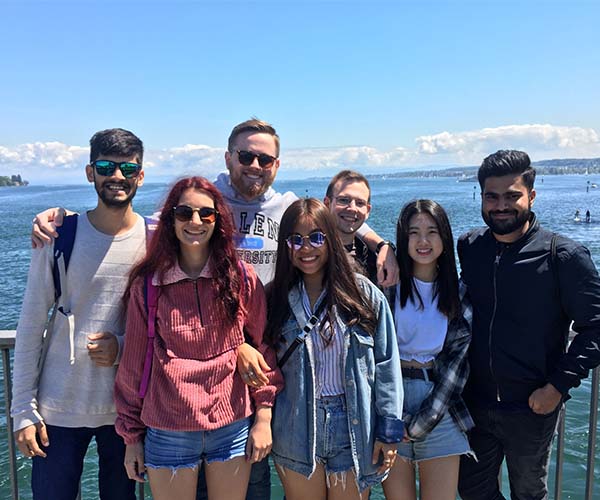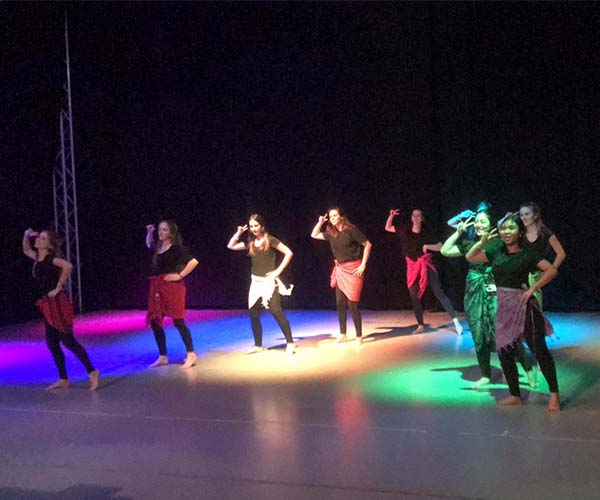 Even though PH Ludwigsburg university is not an institute specifically for a degree in Journalism and actually more suitable for students who want to pursue a career in teaching and education, there were several classes that Chompoo found interesting. Unfortunately, due to the limitations of her German abilities, she could only enroll in the courses offered by the English department for they were taught in English, such as English for Teaching, English Pronunciation, English Academic Writing, English linguistics, Applied Linguistics, and Cultural Studies and German. She also took dancing class and choir class which she had to perform at the end of the semester.
Chompoo wished she could have taken other courses, especially the Internship course. "International students can do an internship in a German school for two weeks. It's very interesting, but I could not do it because the school only preferred native English speakers or people who have at least a B1 level in German." Therefore, she recommended anyone who possesses the mentioned qualities to take the course if they have the opportunity.
Typically, a Thammasat student is only allowed to attend an exchange program for a semester, but Chompoo did not do normal. She contacted the program officer for a possibility to extend her exchange study program in Germany. The deal was that she must be issued a letter of approval from Thammasat University addressed to the Faculty Dean. In the end, Chompoo was given permission to extend her stay at PH Ludwigsburg for another semester. And then she came back to Thailand, she had no problem graduating within four years as previously planned.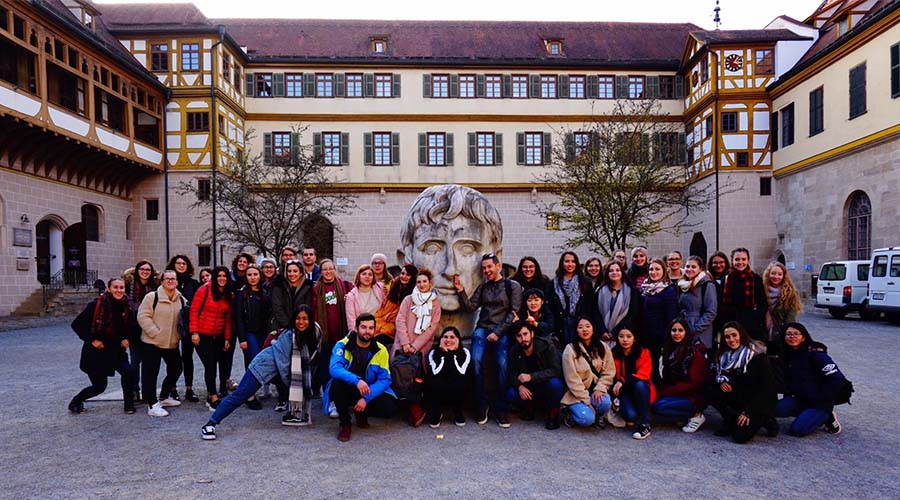 If someone asks Chompoo to describe the study abroad experience, she would say it was invaluable. "I have got a lot of new foriegn friends which can also help expand my networks around the world. I have learned many cultures from other exchange students, not only German students or European students but also Muslim culture and other Asian cultures." Sharing days with those dorm mates has enhanced her understanding of the differences in people and ability to adjust in multi-cultural environment. Chompoo has become a more open-minded version of herself.
In the future, Chompoo already knew where and how she would stand. "I will still be the same Chompoo in some Thai ways but will be more energetic in reaching for the stars in order to improve myself for gaining new knowledge, confronting the challenges and maximizing my capability and potential."
Upon being requested for some message to the students who may be debating their decisions, Chompoo said, "Do not hesitate to apply for it!!! If you do not start, it will never happen!!! Believe me, there are a lot of amazing and wonderful things waiting for you out there, beyond the horizon. If you want to know more about being an exchange student in Germany, I'm willing to give you advice :D"
For prospective students:
Line ID: chompatchar
Facebook: Patcharin Khumcharoen